#SouthEastern Weekly Nifty Trend Analysis 18th to 22nd March 2019
Nifty has again closed near weekly high, data reflects that at current levels still there is lot of outstanding short position in Nifty and Index calls and #SouthEastern analytics suggest another round of short covering. Derivative data indicate bullish scenario to continue with Nifty having multiple strong supports at lower levels around 11300 & 11350 spot. Currently, Nifty is moving up, with decent addition in open interest which indicates strength in the current trend. Option writers
were seen active in recent rally as put writings are seen in 11200 & 11300 strikes along with the unwinding in calls. Among Nifty Call options, the 11500 strike call has the highest open interest of more than 20 lakh shares, while in put options 11300 strike hold the maximum open interest of more than 25 lakh shares.
The Implied Volatility (IV) of calls closed at 12.89% while that for put options closed at 12.20%. The Nifty VIX for the week closed at 15.15% and is expected to remain volatile. The PCR OI for the week closed at 1.51 which indicates put writing. On the technical front, 11300-11350 spot levels is strong support zone and current trend is likely to continue towards 11500-11550 levels.
Stock specific trend with our #SE M3 Charts; KarnatakaBnk - Buy range 123-125 Target 133-137 SL 115.  &  Canara Bank Buy@353-356, Target 381-383 SL 338. (1 Month Target)
#SouthEastern Trader Essential Analytics
Intraday Large-Cap #Trend
Intraday Mid_Cap #Trend
#SE TRIGGER - LargeCap
#SE TRIGGER - MidCap
BSE Sensex Chart #Trend
Monthly Break-out #Trend
FII & DII Monthly Trade
What Mutual Fund's Buying & Selling
#SE BSE Sensex Short Term Trend
India Budget 2019 - Key Highlights
#SouthEastern LinkedIn Blog Post

*Referesh Browser to connect with server & get the chart data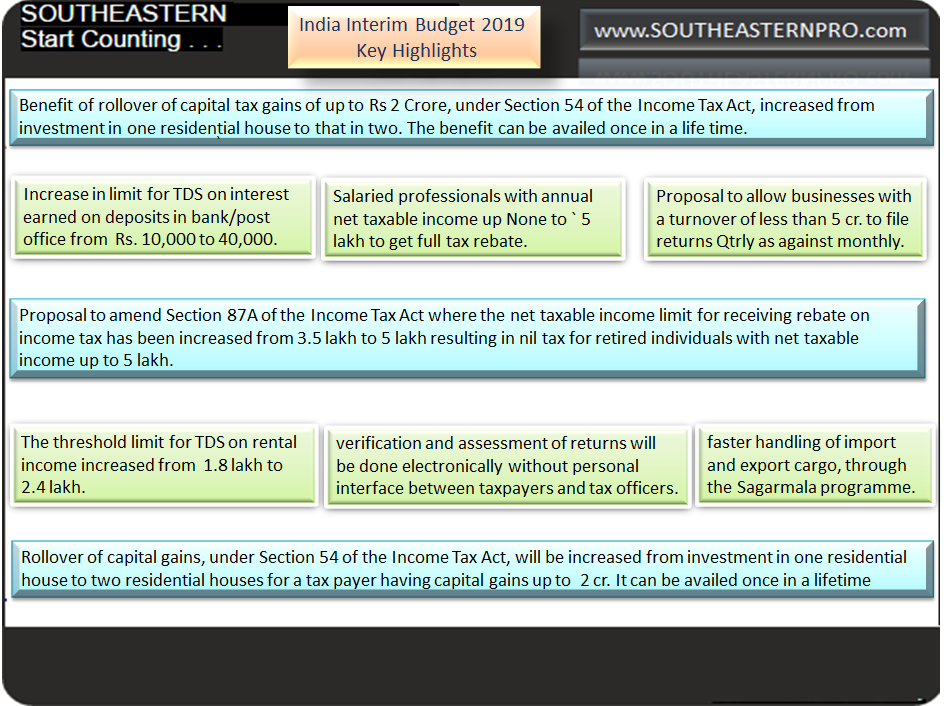 ---
---
---
---
---
---
---